Tervetuloa - Welcome

Aluksi lyhyesti minusta. Elämäni irlanninsusikoirien parissa alkoi vuonna 1997. Kennelnimi Sapwood's minulle on myönnetty 2002. Meidän ensimmäinen irlispentueemme on syntynyt 2006. Kasvatustyöni on saanut alkunsa kahdella tuontikoiralla Fin Mva Chanterss Irmidu & Fin Mva Irishanne Sagittarius. Tarkoituksenani on kasvattaa rotutyypillisiä, terveitä ja hyväluonteisia irlanninsusikoiria. Huolehtiviin ja rakastaviin koteihin.

First shortly about me. My life with wolfhounds started in 1997. Sapwod's prefix has been approved in 2002. Our first wolfhound litter has been born in 2006. Sapwood's breeding based on two imported dogs Fin Ch Chanterss Irmidu & Fin Ch Irishanne Sagittarius. Our goal is to breed quality, healthy & gentle giants to loving and caring homes.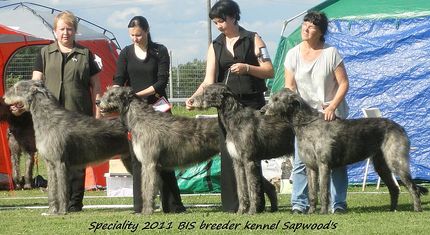 Irish Wolfhound club of Finland Speciality BIS breeder 2009,2010 & 2011!